Tom Morello Recalls How TOOL's Adam Jones Helped Him Join His First Band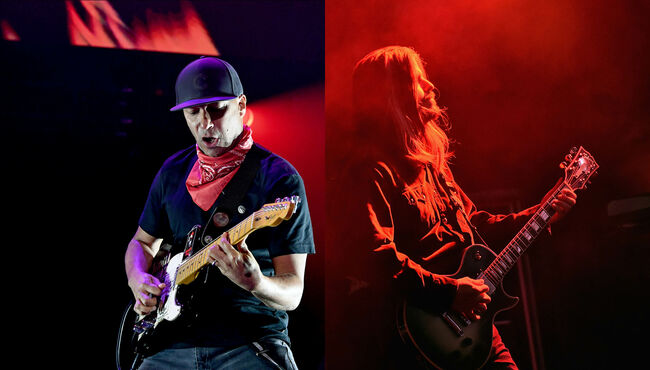 Tom Morello's first experience playing in a band was with a short-lived L.A. based band called Lock Up.
Though Lock Up didn't last, Morello says it was a formative experience for him as he moved forward to form Rage Against the Machine. It wouldn't have happened without the help of Tool guitarist Adam Jones.
As Morello tells Riki Rachtman's Cathouse Hollywood Podcast, Jones had scheduled a night out with some women from San Francisco and needed a "wingman." Morello reluctantly agreed and the pair went to meet Jones' friends at a local bar where Lock Up happened to be performing. Morello says the music immediately resonated with him.
"They didn't look or sound anything like any of those bands, it was kind of rad," he recalled. "Maybe a pinch of Aerosmith, but it was sort of like the early-Chili Peppers but then punk rock, and their hair was shorter... So I followed that band and then, later on, we were rehearsing at the same place and at the time, they lost their guitar player, so I joined my favorite local band."
If you listen to Lock Up today, Morello's description is pretty dead-on. It lands somewhere between Extreme and Fishbone, and it's easy to see how the band provided a stepping stone for Morello into co-founding RAtM.
Morello recalls moving to Los Angels in 1986 with no money but a conviction that he was going to make it. A few years went by and despite putting ads up all over town, he says, "nobody wanted to be in my band, nobody."
Getting into Lock Up was a break because it let Morello show the scene what he could do.
Listen to the full conversation with Rachtman in the player above or here.
Photos: Getty Images